Luma Beard Growth Kit
Regular price
£39.99
Sale price
£69.99
Unit price
per
Tax included.
The Luma Beard Growth kit includes the following:
The Beard Roller
The Beard Oil Serum
The Sanitiser (for the roller)
Specialized Beard Comb 
How does the Beard Oil Serum work? 
A combination of follicle stimulation and skin nourishment, paired with the moisturizing and care of the hair, provides you with the best opportunity to grow and maintain your best beard ever.
The Beard Roller
This form of micro-needling works deep into your hair follicle, stimulating the growth from within. Used in conjunction with the nourishing serum, it ensures all of the goodness included in the serum penetrates deep into the hair follicle.
The Beard Roller will also activate dormant hair follicles, stimulating growth for a fuller beard.
Applying the serum with the Beard Roller ensures that all of the active ingredients contained in the Serum are absorbed into the skin to start the natural regeneration process.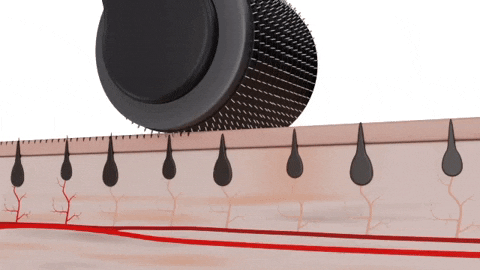 The Beard Oil Serum
With the perfect combination of ingredients to nourish, heal, and moisturize, the Activator Serum applied daily to your beard will help stimulate the hair growth, reduce breakage and hair loss, leaving you with a stronger, healthier and fuller beards that are easier to manage and soft to the touch.
Applying the serum at least once a day will help you reduce infections, inflammations, and dry skin while promoting nourishment of your hair follicle, skin, and hair.
The Sanitising Cleanser.
The Sanitising cleanser cleans your Beard Roller before and after each use. This is critical to ensure it is cleaned properly and does not cross-contaminate your skin with any latent bacteria from previous use.
How It Works?
How does the Beard Growth Kit work?
By making daily use of the Activating serum and combining this with the Beard Roller twice a week, you will be able to manage the care and growth of your beard. Activating dormant follicles, with the roller while nourishing the follicles, skin, and hair with the serum, promotes a healthy and ideal platform for your best beard. Giving it the optimal opportunity to grow and thrive.
The Luma Beard Sanitizer is essential to maintain the cleanliness of your Beard Roller before and after use, and the Comb is your tool to keep your beard under control and looking fabulous.
---